Urban Transport Conference 2023
Since the conference always deals with current topics, this motto was chosen for the year 2023:
"Shaping the future of urban mobility and logistics in times of high energy prices".
The event is primarily targeted at scientists and companies who would like to share and further develop their concepts, ideas and research results. For this purpose, the UTC offers especially energy companies and suppliers, e-bike manufacturers and consulting companies the opportunity to present their current problems and explain how they deal with them. The topic of e-mobility will also be an important point at our event. On the other hand, there will also be scientists who will discuss the consequences of high energy prices and how best to deal with them.
Although the conference was planned as a presence-only event, we unfortunately had to switch to the online format for the first day of the conference due to nationwide public transport strikes.
The second day was then held in hybrid format. Despite these unfortunate circumstances, the conference was an informative and stimulating exchange.
A special thank you to our keynote speakers!
Frank Jørgensen, President UPS DACH
Alexander Schmidt, BABLE Smart Cities
Below you will find the presentations of our speakers. You can also find recordings of the presentations on YouTube.
Patrick Doege, Smart urban multihub concept
Malte Kania, Autonomous cargo bikes
Caro Glandorf; Anna Lena Müller, Mobility concepts for sustainable neighbourhoods
Kolja Müller, Frankfurt Cargo Trams
Urban Transport Conference 2022
The Urban Transport Conference 2022 has taken place on 16th and 17th March 2022 as a hybrid conference. Worldwide experts have presented and discussed about urban challanges that are becoming more and more interdisciplinary. The conference addressed national and international speakers & participants from different sectors: research, private companies, public administration and politics.
The conference has mainly focused on current issues in urban transport. That's why the last conference covered various aspects around the Covid-19 Pandemic.
The exciting and informative presentations were followed by Q&A sessions in which the audience could provide further input and ask questions.
We would like to thank all our speakers and participants who had made this conference to such a success: with a total of 15 participating countries, 17 Speakers and almost 150 guests. We have highly appreciated your presence as well as your involvement in the Q&A.
A special Thanks goes to our two Keynote Speakers:
Jens Deutschendorf: State Secretary, Hessian Ministry of Economics, Energy, Transport and Housing
Prof. Tobias Hagen: Research areas: Data Science, Applied Econometrics, Labour Economics, Policy Evaluation, Transport Economics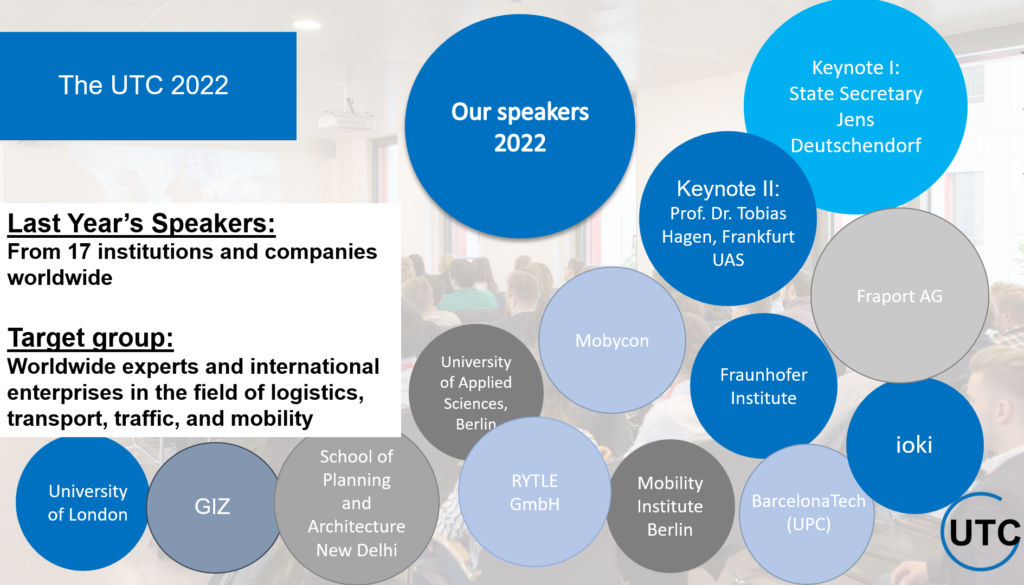 Urban Transport Conference 2020
The first Urban Transport Conference took place on 24th – 25th September 2020 (from lunch to lunch) in Frankfurt/Main, Germany. The focus was on innovative approaches dealing with inner-city transport of goods and people.